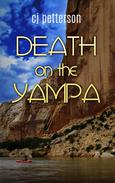 Death on the Yampa
by cj petterson
Publisher: Lyrical Pens Publishing
Product Description:
Death on the Yampa is a contemporary suspense/thriller talewith a touch of romance set in the high mountains of Colorado and Utah.
A woman and the man she loves are rafting the Yampa River through the delicious scenery of Dinosaur National Monument when they encounter her fugitive brother who's joined a terrorist group. She must confront the changing face of terror that never seemed as horrible as it does when the face she sees is that of her brother.
Her dream of realizing happily-ever-after turns into a nightmarish mélange of anger and terror—and she fears someone she loves will die
At about 66,000 words, Death on the Yampa is a thrilling and fast read, perfect for readers who want a taste of adventure, justice, and a satisfying ending.
(Sexual heat level: Behind closed doors.)