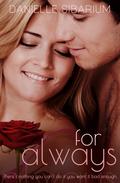 For Always
Eternity, #1
by Danielle Sibarium
Product Description:
"There's nothing you can't do if you want it bad enough."
I entered the world with a massive defect. I attracted death. Like a magnet. I could feel it all around me. It wrapped its icy fingers tight around my chest, leaving me no room for escape. That was my life before I met Jordan Brewer, the boy I became infatuated with. Obsessed with. The boy that became my everything.
I knew he wanted me, too. I saw it. I felt it. But he was older, and wouldn't act on his feelings. I knew in time I'd make him mine. Just as he promised me a future together, his life was torn apart, He turned away from me and shur me out of his life. Could I convince him to let go of his past and hold on to me? Or would he continue to punish us both for something he couldn't control?