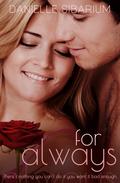 For Always
Eternity, #1
by Danielle Sibarium
Product Description:
You never really get over your first love. Such is the case for Fourteen year old Stephanie Barrano, self-proclaimed misfit and death magnet. A freshman in High School, Stephanie is befriended by Jordan Brewer, a hot, in demand senior, who pulls her from the outer circle of obscurity, into the realm of acceptance. Jordan quickly works his way into Stephanie's heart. He's her everything. And the only person she trusts with the truth about her father's death. While she knows he has strong feelings for her, he won't act on them and uses her age as an excuse. Stephanie doesn't let this deter her. She vows to wait for him, knowing in time she'll win his heart.
Two months before her eighteenth birthday, Jordan serves as an impromptu prom date. After sharing a magical evening, Jordan leaves Stephanie with the promise of a future together. Until, he is involved in a terrible car accident. Jordan, not only shuts Stephanie out, he blames her for the death of someone close to him. Feeling broken and beaten, will she try one last time to get through to Jordan or will she lose him forever?