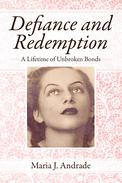 Defiance and Redemption, A Lifetime of Unbroken Bonds
by Maria J. Andrade
Publisher: Clara Publishing
Product Description:
Based on a true story, Defiance and Redemption, A Lifetime of Unbroken Bonds, brings to life the joys, dramas, and triumphs of two sisters, Eva and Victoria Alisio and their loyal friend Marta. The sisters are raised by their atheist Grandfather Marcus and religious Grandmother Maria Luisa. Eva, a proud and strong-willed young woman defies her family, society, and culture, faces scandal and disgrace, for her forbidden love affair. Victoria finds herself in the center of a multigenerational conflict as her benefactor bestows a great inheritance on her excluding the rightful heirs. Marta, loyal to the childhood bond with the Alisio sisters, brings humor and support to their twists and turns of fortune. The young women's bond of love, and perseverance, carries them through ordinary and extraordinary losses, triumphs, and ultimately to their destiny in the United States.
An important novel about 20th Century women, Defiance and Redemption, is an absorbing epic that moves through decades and destinies. It blends personal and historical events into a collective tale of self-determination, love, and sisterhood.