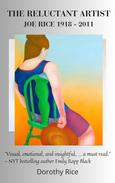 The Reluctant Artist
by Dorothy Rice
Product Description:
JOE RICE (Joseph Flavius Rice) was a prolific and skilled artist who continued to explore artistic expression into his eighties. He left a considerable legacy (paintings, sculpture and jewelry) spanning close to five decades. An abidingly humble and private man, he never pursued recognition for his work, yet he took his vocation very seriously. Rice was a public high school art teacher, an inventive artist, the father of four children, and a self-proclaimed "overeducated pauper." He lived in and around San Francisco, raising his children during the sixties and seventies - a magical place at a magical time. THE RELUCTANT ARTIST, equal parts biography, memoir and art book, was written and compiled by middle daughter, Dorothy Rice.

Through vivid scenes matched with full-color reproductions of his work, she recounts tales of her father's lifelong commitment to art, his disquieting tendency toward solitude, his unease with useless conversation, and his self-effacing manner and adherence to humility as the highest virtue. Though he made art all through his life, Joe Rice never sought recognition or financial profit for any of it. Near the end of his life, his three daughters became increasingly fascinated by and attached to his work, chronicling, photographing the art on his walls, and discovering a cache of paintings that had been stored in the garage rafters for over twenty years. Through his art they attempted to better understand their father's hidden truth: though he never sought to make a living from his art, art gave him his life. And having left so many tangible remnants he will live on in more than memory.

Following his death and the publication of THE RELUCTANT ARTIST, his daughters facilitated a posthumous debut for their father, a gallery showing of their father's most iconic paintings - large canvasses in his signature mashup of hard-edge techniques and surrealistic imagery.