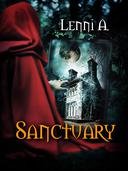 Sanctuary
by Lenni A.
Publisher: Lenni
Product Description:
After the Waking when magick and witches were revealed to the world, Makayla has made it her personal mission to help young witches who have no place to go. She thought she'd found the perfect house but an old, malevolent force is trying to keep her away.
This is a clean lesbian, age gap romance with powerful witches.