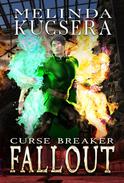 Curse Breaker Fallout
Curse Breaker, #8
by Melinda Kucsera
Product Description:
His twin's in trouble again. This time, a demon has possessed her. Sarn and his family must break its hold over her. But how can they when she's in a distant land, reachable only by dying?
Nor is that Sarn's only problem. He won back his magic, but it no longer trusts him and won't come at his call. He must fix things with his magic to have any hope of freeing his twin sister before time runs out. She's the only one who can stop Armageddon, but only if Sarn saves her first.
Curse Breaker Fallout picks up where both His Angelic Keeper Tempted and Curse Breaker Hidden leave off. It takes our heroes on their most personal journey yet. Without trust, there's no magic or love and both are at stake in the final installment of the 11-book crossover that will change everything for every character forever.
Lines will be drawn. Sides will be chosen. A war to end all wars is coming. Who will survive it?
Get Curse Breaker Fallout to find out.