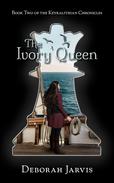 The Ivory Queen
The Keyralithian Chronicles, #2
by Deborah Jarvis
Product Description:
Deirdre Hawes had never thought of her life as extraordinary until one day she met the father she never knew and thus began the adventure of a lifetime. Armed only with the knowledge that she is heir to magical gifts that would allow her to call on the aid of the long-vanished dragons, she finds herself drawn into a web of intrigue and murder where the powers behind the throne are aligning to make sure she doesn't succeed, no matter the cost. Deirdre soon finds her life in the hands of those she's been told not to trust, but trust them she must if she is to have any hope of not only completing her quest but surviving to make the journey home.
Together with several loyal friends, she makes her way south. As they travel further, she discovers that not everyone is as they seem and that preconceived notions of what is good and what is evil are often mere simplifications of a much more complex truth. When forces long-aligned with the crown begin to show their true intentions, It is up to Deirdre and her companions to figure out a way to evade their traps and make their way below the Southern Mountains and across the desert to the jungle where the dragons are said to reside.