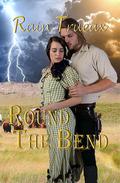 Round The Bend
Oregon Historicals, #1
by Rain Trueax
Publisher: Seven Oaks
Product Description:
In 1851, Independence, Missouri, a big wagon train waits to begin the 2200 mile trek to Oregon. Seventeen year old Amy Stevens shares her excitement at the journey with her best friend-- only to be disappointed in his less than enthusiastic reaction. When he suddenly kisses her, Amy, who fancies herself a future bluestocking, angrily tells him he is ruining everything. Changes are coming, but surely not for her and Matt.
Three years older, already with too many hard experiences, Matthew shares none of her illusions as to what lies ahead. He also has seen how the train's scout, Adam Stone has looked at her. He's torn as to what he can do about it.
Matt has lived a hard life, worked hard to earn enough for the supplies to go west. His father and brother, both damaged by alcohol and hate, begged him to bring them. His brother claimed he wanted a second chance. What Matt learns, too late, is Morey's idea of a second chance involves revenge.
Round the Bend is the story of the trek west told through two families-- the Stevens and the Kanes—families as different as light and dark. It is a story of the purest of love and the most driven of hate. As the train heads down the Trail, the travelers will learn more about each other than any want. The road ahead will test them all.
This is the first of four books, which follow the Stevens family through four romances as it tells some of the story of the founding of Oregon. Each of the romances stands alone, no cliff hangers. Heat level, with 1 least and 5 highest, is ♥♥♥♥.