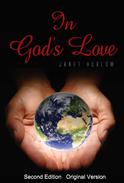 In God's Love Second Edition Original Version
by Janet Hurlow
Product Description:
Is there a God? Is there an afterlife? Does life have meaning? Is there intelligent life in the cosmos? Have aliens come to Earth? Would beings from another world be able to communicate with us? Would aliens have things they want us to know? The answer to all of these questions is YES. The classification of this book is NON-FICTION.
My name is Janet Hurlow I am not a mystic, nor am I "my God knows" saintly. I don't pretend to have a holier-than-thou attitude. I am just an ordinary woman who makes plenty of mistakes. "In God's Love" is not actually my book, I just wrote what came to me. A light formed around the words on the page. I am a simple scribe. I asked, "who are you?" And they answered, "We are Rem. We are from God." They wrote "Reached is Earth from a far planet in the north constellation. God has created many worlds and many people who are in virtuous peace and love" (Passage 143: 11,14-15).
In God's Love contains all 532 passages that were given to me. The passages are a treasure of wisdom, truth, knowledge, challenges and most importantly love. "Blessed is this book. It is sent from God's heart" (Passage 372: 13-14). The book is God's love letter to us sent by beings of another world. It is God's gift to the world. I hope that through reading the passages of In God's Love people may be drawn closer to God their Father who loves them very much. The messengers often write that the book is written to be a "sign of signs in the time of times." Perhaps now is the "time of times." May you choose to rest in God's love.
You Read. You Discover. You Decide.
With Preface, Passages, Endnotes and Index Approximately 738 pages. With Preface and Passages only Approximately 654 pages.