Every year has its ups and downs, its challenges and its victories. And we all began 2021 with a minimum hope that, once we came to the end of it, we'd be able to say "At least it wasn't 2020."
As it turns out, 2021 started a little rough, and had some valleys for us to plow through, but ultimately came with some pretty good peaks as well. Far from being simply better than 2020, 2021 brought an increasing sense of hope. And we think that will continue to grow as we turn the calendar over to 2022.
For Draft2Digital, the year 2021 came with some interesting opportunities, some of which we're still watching unfold. But for the most part, it has been a year of structural growth, with things happening behind the scenes that have allowed us to refine and strengthen the resources we offer to authors.
This year, as we look back at D2D's accomplishments, we've also decided to try something new—we're looking at some of the trends of the industry, drawing upon insights we've picked up because of our own unique perspective. And while we can't share specific details about specific retailers (pesky non-disclosure agreements!), we can share what we've learned from monitoring sales by region, by genre, and more. We'll take a look at some of the trends we've noticed over the past few years, and what we think this will all add up to for authors.
To start, though, let's take a look at some of the things D2D did for you, in 2021.
New2Improved in 2021
D2D Print 2.0
For the past few years, our development team has been working to get D2D Print ready for a full release. It's been in beta for a good, long while now. But not for lack of progress.
In fact, the biggest reason D2D Print is still in beta is because we have been learning so much and implementing so many changes, based on your feedback and on some of our own insights, that until recently it just wasn't quite ready for prime time. There are still a few screws to tighten and adjustments to make, but we're closer to being able to pull up the blinds and turn on the sign for a full release.
Here's some of what we've done in 2021 to make D2D Print much more D2D worthy:
We've added an additional step in the Print process (Step 5), splitting up the pricing and approval steps.
Proof copies of your book will now be available for $30 flat, which includes express shipping. For now, proofs will only be available for the US and Canada.
You aren't required to purchase a Proof Copy to approve your book for distribution, of course. And we actually recommend using our Digital Proof so your book can reach readers even faster!
Once you've approved either a digital or a physical proof, you'll be able to purchase Author Copies. For now, Author Copies are only available in the US, Canada, UK, Australia, and New Zealand.
Say bye-bye to the surcharges for purchasing only 1 or 2 Author Copies! We're pretty psyched to get rid of that annoying fee.
We've built a better user experience—better quality and faster turnaround times for both Proof and Author Copies. Plus, we've improved the purchasing experience for Author and Proof copies, bringing it all in-house at D2D, so there's no more hopping around.
We've made it easier and faster to get books live and to troubleshoot problems when there's an issue. If there's an issue. This is D2D, after all—we crush issues like bug.
Due to switching print partners, there is now some overhead involved when it comes to making changes to your print book. We don't like charging authors for things, if it can be avoided. So we've come up with a solution that we believe is fair: We've implemented a token system that gives you one free change token every 90 days, per title, and you pay only $25 for extra change tokens as needed.
You can learn more about the token system (and plenty of other related things) in our Knowledge Base. Click here to read the article.
We're continuing to make improvements and refine how D2D Print works, because we want you to have the same excellent experience with this service that you get from everything else we do. It's almost ready, and we're onboarding authors from the waiting list with greater speed. There are already 11,000 titles live through the program, and more to come!
Soon every D2D Author will be able to use this print-on-demand service, but if you'd like to get on the onboarding waiting list you can do so by visiting this link:
https://draft2digital.com/printbeta/
BorrowBox
We love libraries—they're often the first place where readers discover and connect with books and authors. In fact, most of the Draft2Digital staff (and pretty much all of the authors who work here) first came to love books by handing over a library card and carrying home a tall stack of treasures.
So, it has always been important to us to do all we can to increase the reach of our authors into libraries worldwide. In fact, few other publishing aggregators offer as many library distribution solutions as D2D, and we're not afraid to say it!
Our love for libraries is exactly why we're so pleased to announce the addition of BorrowBox to our library distribution!
BorrowBox is an app that provides library patrons in Australia with access to an ever-growing collection of eBooks. The service is owned by Bolinda—a trusted provider of eBooks, large print books, and audiobooks for more than 20 years. These are names that Australian readers know and trust, and getting your books into these catalogs means getting tons of opportunities to connect with an enthusiastic readership!
Poetry Template
Roses are red
Violets are blue
Poetry templates
Are hard to do
But that didn't stop us from rolling up our sleeves in 2021 and slaving over vats of hot pixels and razor-sharp code in order to give you a handy and attractive poetry template!
You'll find this template among all the others we offer for free when you get to Step 2: Inside (or Print) or Step 3: Preview (for Ebook) in our setup process. And don't worry if you've already set up and published your book, you can easily go back and change the layout at any time.
Getting your poetry layout to look right does require a minor bit of formatting to your Word document. But don't worry, it's very easy!
All you need to remember is that you must put two paragraph breaks between each stanza.
Here's an example: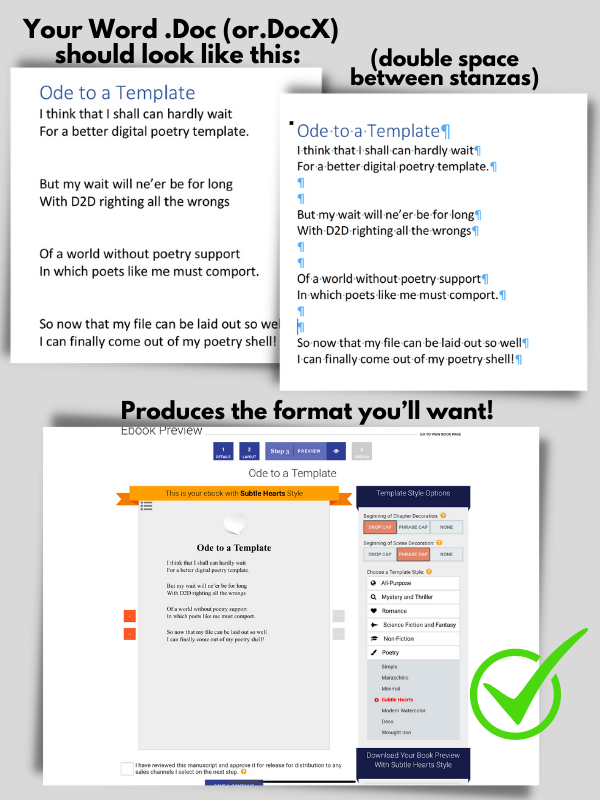 And of course, if you have questions or run into issues, you can drop a line (or a haiku, if you prefer) to our team at support@draft2digital.com.
Print UBLs
With all the talk of D2D Print above, you might be asking yourself, "Self?"
"Yes?"
"Now that I have a print version of my book, is there anything out there that will help me promote the thing?"
"… Ask Kevin Tumlinson."
Hey, would we let you down? Of course we've got you covered!
This year, Draft2Digital made some pretty cool upgrades to our famous Universal Book Links (UBLs for short). And perhaps the biggest was the addition of support for print books!
And we're not just talking paperbacks here—you can include links to hardcover versions of your book as well.
That means that you can now direct readers to every format of your book—from ebooks, of course, to audiobooks, and now to paperbacks and hardcovers!
One thing to note: Unlike ebooks, which can be scanned and scraped and automatically added to your UBLs, the process for adding links for your print books is a little on the manual side. Similar to audiobooks, you'll need to supply links to each of the stores where your print books can be found. But when you're done, you'll have one truly universal Universal Book Link!
Get your Priorities Straight
Speaking of UBLs, we're thrilled to introduce a new trick to help you emphasize which retailers are "preferred," by prioritizing storefronts on the UBL landing page!
With a simple drag-and-drop from the UBL's Link Tools page (accessed by clicking on the tile of your book from the UBL Dashboard), you can grab those two columns of dots to the left of a retailer's logo and move it up and down in the priority list.
You might use this to emphasize that you want readers to see a particular storefront first—such as your PayHip link (for direct sales), or maybe Apple or Kobo, while you're running a promotion on one of those stores.
Whatever criteria you use, now you can put your retailer of choice front and/or center, to help nudge readers in the right direction!

Author Pages, Now Even More Unique!
Our Author Pages have been around for a long while, but we recently added a new feature to make them even more useful to authors—Custom URLs!
Similar to how custom URLs work for some of our other tools, such as UBLs and Reading Lists, authors can now stake their claim on their author pages by adding a unique identifier. So instead of a URL that contains a bunch of numbers and letters:
http://books2read.com/ap/JRwWRV
You can have an author page URL with its own unique identifier, such as your author name:
http://books2read.com/kevintumlinson
You can actually use anything you like for your unique URL, but we recommend laying claim to your author and pen names.
To set up your unique Author Page URL, just log in to your account at Books2Read.com, click on "My Account" in the menu bar, and select "Author Page Custom URLs from the menu." Find your author page and update it with your text, and you're good to go.

New Kobo Plus Territories
Kobo Plus has been a part of Draft2Digital's retailer sphere for a couple of years now, giving you reach into the Netherlands, Belgium, and Canada. As of 2021, Kobo Plus now includes Australia, New Zealand, Italy, France, and Portugal!
Those are great additions, and the good news is that Kobo Plus Payout Model hasn't changed—it's still based on the number of readers subscribing and reading books through the service. And with new territories becoming part of the service, that means lots of new readers, and lots of opportunities for your books to be discovered!
Here are some of the advantages of opting into Kobo Plus through Draft2Digital:
No exclusivity—While you're enrolled in Kobo Plus, you can distribute your books to any other online bookseller that you wish! There's no exclusivity requirement to be in the program.
Royalties—Royalties are based on the current Kobo Plus Payout, which increases as subscriptions rise. Your royalty share is based on a formula that takes into account the Minutes Consumed—the combined number of minutes read by paying subscribers in a given month.
Reach an expanding market—Now that Kobo Plus is expanding into these new markets, you'll reach a whole new potential audience. That means more opportunities to reach more readers, and to earn more revenue!
Draft2Digital and Kobo have always had a great relationship, and we're thrilled to offer our authors this chance to reach even further.
D2D Promotions
Helping you promote your books and find new readers is something we're always working on. And this year, we took huge leaps in finding promotions for our authors, among our retail partners.
In 2021, up to the first week of December…
We sent out more than 18,000 promotion opportunity email invites to authors
More than 8,400 D2D author titles were submitted to retailer and library partner promotions
Over 4,700 D2D author titles were included in retailer and library promotions
That's a lot of free promotion! And our tools for building and finding these are improving as we go. So we're excited to see how D2D Promotions will evolve in the coming year.
By the way, if you'd like to register to be considered for inclusion in future promotions, you can use this form: http://d2d.tips/d2dpromoform
D2D Introspection
One of the perks of being the top distributor of books by independent authors is that we get a peak into what the industry looks like, from the inside out. This year, we want to start regularly sharing some of those insights with you.
This information can be invaluable for determining industry trends, helping you make decisions about marketing and even about what genres and regions to focus on. And while we never advocate "chasing trends," knowing what readers are gravitating to can be incredibly helpful in determining a strategy for your author business.
To that end, the next couple of sections will give you our take on your industry.
Industry Insight
As many of you may know, D2D now has resources for working with our retailers to create book promotions. These are subject entirely to the vendor's needs and plans, at the moment, but we've been working hard to make it easier for authors to get some of these promos. And while there are never any guarantees that a given book will be chosen, we're very pleased at the progress and growth we're seeing in this area.
Based on data we've gathered from author promotions, across various retailers, over the past year, here's what we discovered.
Top 10 Genres for 2021
Romance
Fantasy
Mystery & Detective
Thrillers
Science Fiction
Erotica
Women
Coming of Age
Sports
HEALTH & FITNESS / Diet & Nutrition
Within the Romance category, 2021's top 10 sub-genres are:
Romance / Contemporary
Romance / Suspense
Romance / Paranormal
Romance / Historical
Romance / General
Romance / Romantic Comedy
Romance / New Adult
Romance / Military
Romance / Action & Adventure
Romance / Collections & Anthologies
Regional Insights
One advantage Draft2Digital has is our ever-expanding insight into a wide range of retailers and regions, worldwide. We want to leverage that insight on your behalf, and we're working on ways to provide our authors with a perspective on the industry that can help with marketing and selling books. Reaching a new audience is often a function of coming to understand buying trends in a given region, and so we're looking at how those trends can be tracked and measured, and served up in a useful way.
While non-disclosure agreements prevent us from sharing specifics about our retail partners, we can share select bits of data. Below is a chart displaying the percent of sales we've monitored for books distributed through D2D, broken down by regions, going back to 2018.
2021
2020
2019

2018

US 55.91%
Canada 9.45%
Australia 8.06%
Great Britain 5.05%
Germany 4.76%
Netherlands 4.49%
France 2.37%
Belgium 1.28%
Switzerland 1.04%
New Zealand 0.92%
Italy 0.79%
US 57.59%
Canada 9.12%
Australia 7.38%
Netherlands 4.78%
Great Britain 4.38%
Germany 4.16%
France 2.87%
Belgium 1.62%
Switzerland 0.94%
Italy 0.88%
US 59.70%
Canada 9.60%
Australia 7.90%
Netherlands 4.21%
Great Britain 4.02%
Germany 2.87%
France 2.69%
Belgium 1.18%
Italy 0.88%
New Zealand 0.88%
US 62.62%
Canada 9.33%
Australia 8.37%
Great Britain 4.20%
Netherlands 2.98%
France 2.81%
Germany 2.50%
Italy 1.19%
New Zealand 0.80%
Spain 0.58%
A few key things to note: Looking at the percent change for the US, we can assume that everything outside US is considered International. This means that when we compare 2021 sales to 2020, we saw that as a percentage of overall sales, international sales grew by 2.92%.
And if we look at the trend compared to 2018, that difference shows international sales having grown by 10.72% over just a four-year period.
Year-over-year (YOY) sales growth from 2020 to 2021 shows:
Australia up 9.21%
Canada up 3.62%
Switzerland up 10.64%
Germany up 4.76%
Great Britain up 15.30%
This is effectively a story of how authors are using D2D to gain more sales in international markets. And with expansion into new territories (via growth by retailers such as Kobo Plus, into new regions worldwide), the opportunities for authors distributing wide continue to increase.
Many of these regions, by the way, have no Amazon presence. Which means that authors distributing through KDP Select will not have an opportunity to reach these new markets.
So, going forward, what sort of data would you like to see? We can't promise that everything is on the table (again, NDAs and other restrictions do apply). But what insights might help you with making your author career more successful? Leave us a comment and let us know—we might just be able to accommodate your requests in future industry reports!
D2D Plans for Your Future
As Draft2Digital continues forward in its mission to expand author opportunities and reach, we're establishing more relationships with both international and US retailers. That's been a priority since our founding. And with greater reach into both retail and library markets worldwide, the inevitable outcome is greater discoverability. In some cases, we are helping authors reach markets of readers who have had very few alternatives for discovering new authors and books they love.
Our roadmap for 2022 and beyond includes some pretty big shifts in opening up new markets for authors to reach, including some opportunities we think authors are going to love. The kind of thing we can't wait to tell you about—pretty amazing stuff.
As we go forward into a whole new year, it's with an eye toward supplying you with all new tools and resources to make it much easier for you to build and grow your author career. New markets, new ways to promote, and new opportunities to grow.
This year, 2021, was a year of recovery and growth. We expect that to continue, going forward, and we're actively building new tools that are going to take you and your career to the next level. We can't wait to see what you think of all the surprises coming your way!
Until then, we want to wish you a safe, healthy, happy and prosperous new year. We're so very honored to be a part of your author dream, and we promise we are doing everything we can to make that dream happen better and faster than you might ever have expected!
Sincerely,
The Draft2Digital Team