Without exaggeration or hyperbole, perhaps one of the most requested features from Draft2Digital authors has been payment splitting.
That's why we are thrilled to announce that D2D Payment Splitting is now available!
This new tool allows authors and contributors to collaborate on projects without having to worry about managing the royalties. D2D has baked in peak simplicity to this powerful tool, assisting authors in everything from the tax interview to managing percentages for splits on any of your works.
PERFECT FOR COLLABORATIONS, CO-AUTHORING, AND BOX SETS
If you're familiar with D2D Shared Universes, you already know that D2D has some long-standing experience with helping to manage shared royalties. D2D Shared Universes enables an intellectual property owner to open their world up for contributors to produce original books, and with royalties shared between the contributing author and the Universe owner.
But now we're taking things a few steps further.
HOW PAYMENT SPLITTING WORKS
D2D Payment Splitting gives copyright owners the ability to co-publish works and control the percentages owned by each participant.
It starts with an Organizer, who sets up the project and invites Collaborators. The Organizer determines the percent split for each Collaborator, and the Collaborator can accept or reject the offer.
Both Organizer and Collaborator will have to have Draft2Digital accounts and will have to complete their payment settings and tax interview.
As with all books published through Draft2Digital, you maintain 100% of your copyright. D2D Royalty Splitting makes it easier to share a percentage of a book's royalties between multiple contributors and/or copyright holders. We provide the same safe and secure payments as we use for individual authors, so you'll never have to worry.
All terms, rights, and royalty shares for collaborative projects are determined by the Organizer. Draft2Digital does not determine or regulate royalty splits, copyrights, or terms of agreement between collaborating authors.
WHERE TO START
When you start a new project, or edit an existing one, you'll find a button on Step 1: Details, below the Book Description field. Below is an example of what to look for (this image is not clickable):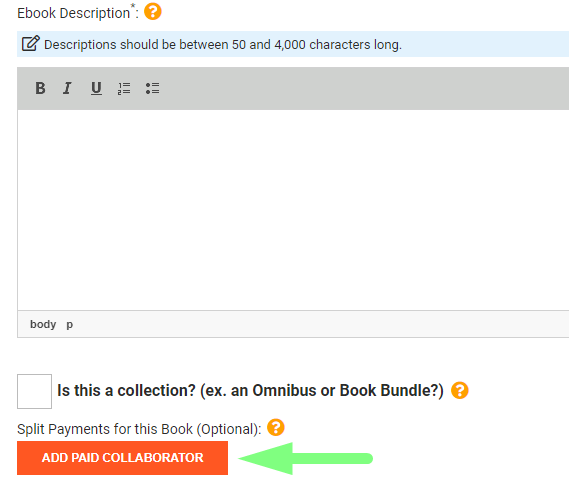 (This image is an example of the button you'll find on Step 1: Details)
Click that button, on the Step 1: Details page, to invite a Collaborator to your project.
PAYMENT SPLITTING IS THE SAFEST, EASIEST WAY TO COLLABORATE WITH OTHER AUTHORS
With the popularity of box sets and other collaborative projects, something that's been missing from the indie author landscape is a truly simple, easy, and safe way to split royalties and distribute collaborations worldwide. We've solved this problem for you with D2D Payment Splitting, and we can't wait to see the creative ways you and your collaborators put it to work!
Check out this article for a walkthrough where our own Mark Leslie Lefebvre guides you on how to use this new feature.