Draft2Digital has always made it a priority to make eBook conversion as easy as pushing a button. Our free eBook conversion tool has been praised as the best there is. Authors get attractive EPUB and MOBI files they can count on to work with any eReader app or device on the market. They even get a print-ready PDF to use with Print On Demand (POD) services, such as CreateSpace and Ingram Spark—all for free. We're never going to change that. But even the best around can get better and we've improved our eBook templates for our authors!
Introducing D2D's new stylish, beautiful, still wonderfully functional Professional-Quality Ebook Templates!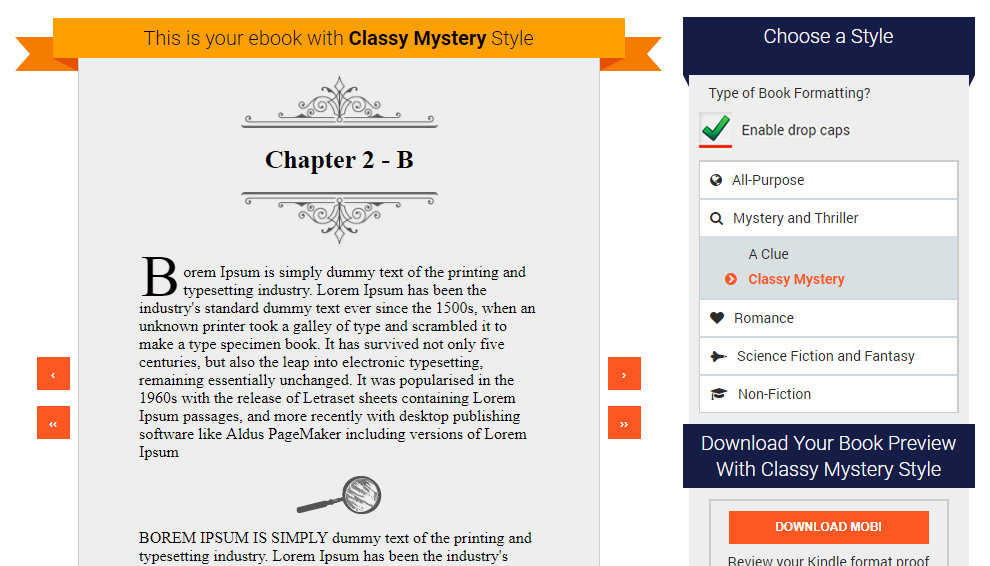 Now you can choose from a menu of eBook formatting styles that are each crafted to visually appeal to your readers, and add that extra touch of professional quality that sets you apart and helps your eBook stand out. You'll never have to fuss with clunky conversions or settle for sub-par formatting. And it wouldn't be Draft2Digital if we didn't give it to you for free!
HERE'S WHAT YOU DO: Log in to your D2D dashboard, choose your eBook, and click Edit Book. Then go to the new Preview tab and choose a style!

Drop caps—possibly the most-requested feature on the list!
Header styles—Graphics, flourishes, and text treatments that give your book some professionally designed flair
Scene dividers—Beyond *** and on to eye-pleasing alternatives
Operating system agnostic—No software to download! You can log in from any web browser, on any operating system, and choose the design you love
Available for eBook and print—The style you choose is automatically applied to both your eBook and print layout (for use with POD services), keeping the look consistent for each
And, of course, because it's D2D, we had to make it free! You don't even have to distribute your books via Draft2Digital to use these templates. The eBooks you produce are yours to use anywhere and anyway you like.
Of course, if you'd like to reach readers worldwide, through our global network of distributors, we're always happy to help with that!
We're thrilled at how these Pro-Quality Templates have turned out, and we know you will be too. Log in to your Draft2Digital account to start updating your eBook and print layouts right now. And as always, all of these new features are completely optional! You don't have to do a thing, if you like things exactly the way they are.
Let us know what you think! Feedback is always welcome.