Draft2Digital has partnered with Humble Bundle, a leading online platform that sells games, ebooks, software, and other digital content to begin curating titles from Draft2Digital and Smashwords catalogs into incredible value-packed bundles that also raise money for a good cause.
"It's a win/win/win situation," says Mark Leslie Lefebvre, Director of Business Development for Draft2Digital. "Megan Spann, who leads the promotional activity on behalf of our authors, is working closely with the good folks at Humble Bundle to find and curate titles to meet specific themes in their extensive offering of deals."
The goal of this partnership is to help Draft2Digital authors continue to reach new readers and fans of their writing in the global marketplace.
This first Humble Bundle deal includes a combination of internationally bestselling authors alongside authors who have written great books that might not have yet received the full attention they deserve. It also has a number of products and digital box sets that are exclusive to this bundle and can't currently be purchased elsewhere, thanks to the generosity and inventiveness of the participating authors.
"When Megan joined the Draft2Digital team earlier this summer, we both agreed upon three main things," said Lefebvre. "That we work more closely with all our partners for promotional opportunities for mutual success. That we try to make it easier for authors to learn about, nominate titles for, and participate in promotions. And that we include as diverse a range of genres, titles, and authors in those campaigns as possible.
"Sure, we love to spotlight the bestselling authors who are absolutely killing it in sales within our numerous downstream retail and library partner platforms. But we're also excited about being able to prop up authors who have great books but could benefit from a little bit of extra exposure and visibility."
The goal of Draft2Digital has always been to provide free services and tools to help remove the barriers to publishing for authors. The next level, of course, is to provide free marketing opportunities, from the DIY free Books2Read platform and the ability to create your own coupon codes for the Smashwords store, to partnering with retail and library partners for promotions to help authors sell more books.
The relationship with Humble Bundle kicked off on August 4th with the launch of the Stars of Sci-Fi Summer Book Bundle. (https://www.humblebundle.com/books/starsofscifisummer-books) It contains 35 unique items, many of them digital box sets containing numerous titles, and valued at over $300 USD from a multitude of authors that readers are sure to enjoy.
(NOTE: You can help make this promotion a success, and make it possible to do future promos like this, if you drop in and buy a copy of this bundle! You can get $300 worth of great science fiction for as little as $18—you set your price!)
"The actual count of unique ebooks," Lefebvre says, "once you consider the digital box sets, is 85. That's up to 85 eBooks available at a 'pay-what-you-want' price."
This Sci-Fi themed bundle includes numerous flavors and sub-genres of science fiction: space exploration and space opera, military, action and adventure, near-real-time. It also includes LitRPG, urban fantasy, young adult and dystopian fiction. Basically, a little bit of something for everyone.
The titles in this Bundle include: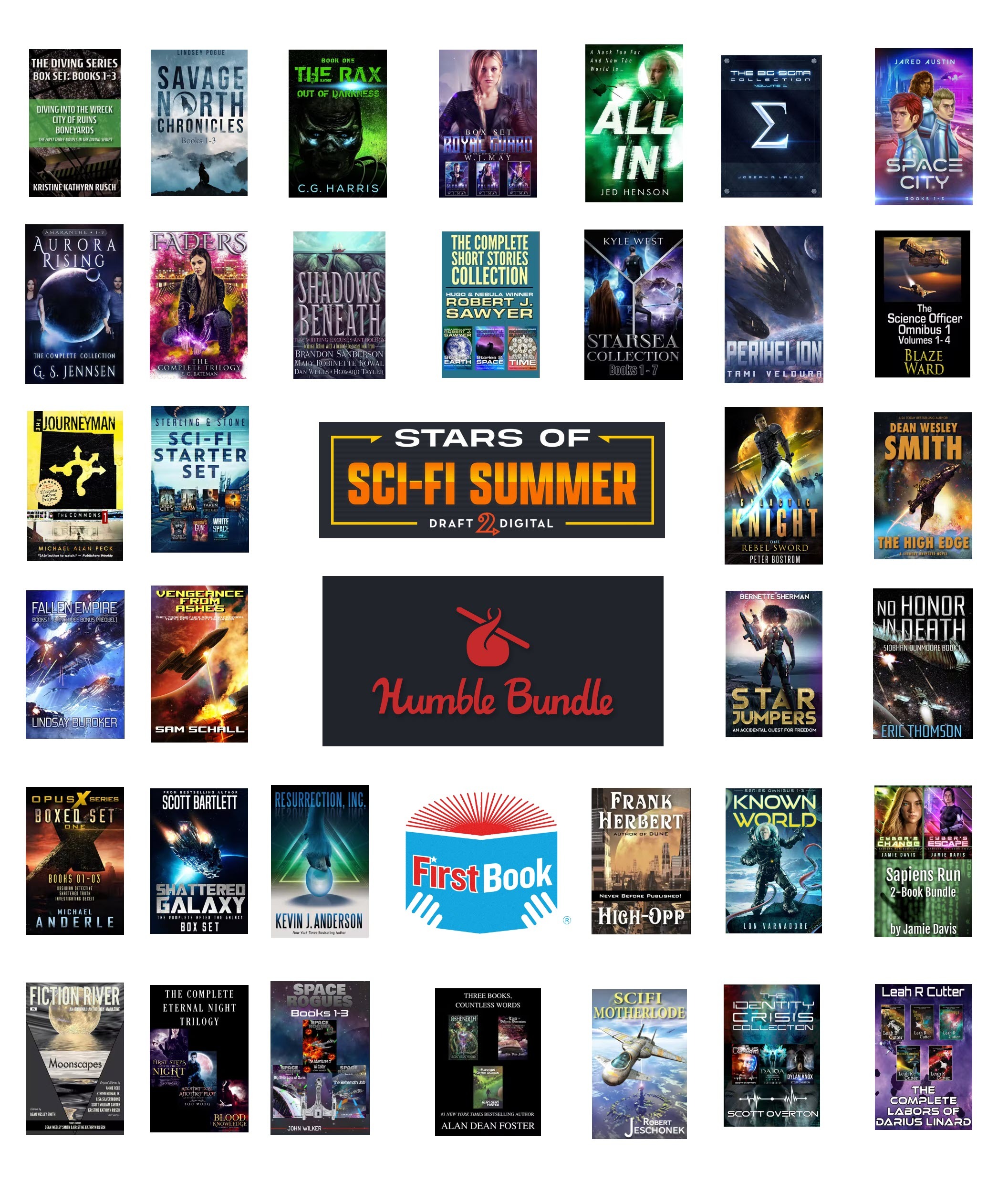 In order to be considered for a Humble Bundle, authors need to have books active in either the Draft2Digital or Smashwords catalogs (with the merger of the two companies under the Draft2Digital brand, those catalogs are in the process of being merged into a single database – preserving the international Smashwords store which sells in more global markets than Amazon).
"So, the only authors who are able to take advantage of the opportunity," Lefebvre says, "would be authors who are publishing their ebooks wide, beyond the limits of exclusivity to the world's longest river."
"We recognize that with an offering like this, we are limited to how many different authors can be included in each one," says Lefebvre. "This particular Humble Bundle, for example, includes the work of 49 different authors. But with each new bundle and each new theme we hope to continue to provide a variety of authors, both the New York Times and USA Today bestsellers, along with rising stars. This is just one of many ways we're working to help provide an opportunity for the writers we're lucky enough to get to work with."
In addition to helping authors reach new readers and grow their sales, this bundle is raising money for a good cause: First Book, a nonprofit social enterprise that provides new books and educational resources to programs and schools serving children in need.
Over 30 million American kids live in poverty. First Book wants to see every single one of them read, learn and succeed. A nonprofit social enterprise, First Book makes new, high-quality books available to schools and programs serving children from low-income families. When purchasing a Humble Bundle, customers can decide how much funding can go to super the charity.
Humble Bundle's mission is to support charity while providing awesome content to customers at great prices. They launched in 2010 with a single two-week Humble Indie Bundle, but they have humbly grown into a store full of games and bundles, a gaming membership service, a game publisher, and more.
Draft2Digital's goal is to provide authors with free tools, resources, and support that can help them publish their books to the global market and to focus more time and attention on their writing.
For more helpful author resources, be sure to check out our new Author Essentials page!