Your free Books2Read Universal Book Link (UBL) creates a single landing page where you can include links to multiple global retailers for eBooks, print books, and audiobooks, and which will auto-geo-target readers to the right country's version of the website. You can even give them a custom URL so you can have easy to type, easy to vocalize URLs that might be your book title.
But did you know that you already have a customizable Books2Read Author Page?
It's like having an Author Central page for all retailers, rather than a single one.
And now, you can claim a custom URL for your Author profile landing page.
All you have to do is:
1) Log in to your Books2Read account at http://books2read.com and go to My Account > Author Page Custom URLs in the header

2) Scroll down to the Author Page you'd like to edit/update and click on the ADD URL box

3) Type in the desired URL (Names are not case sensitive (MYname, MYNAME, myname, and MyName are all the same name; No special characters aside from hyphen and underscore are allowed; Spaces are allowed but are converted to hyphens on save; Limit is 100 characters)

And you're done!

You can always clear the custom URL or change it if you wish.
And while you're there, don't forget to go ahead and customize your Books2Read Author Page to control and update your author photo, links to your website and social media, the featured book and accompanying tags, and the custom carousels of your books.
Just click onto the green text of your author name to open up the window where you can either see how readers might see the page, or ENTER EDIT MODE.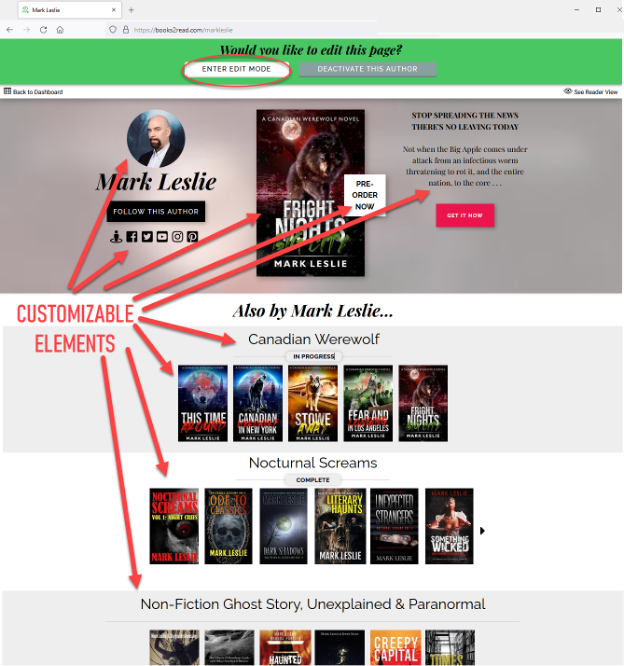 And you don't have to publish your books through Draft2Digital in order to take advantage of any of these great Books2Read features.