We spend a lot of our time thinking of new ways to help authors take things to the next level. Now we're working on tackling the ultimate challenge: Author Discoverability
There are a lot of ideas on our drawing board, and a lot of new tools in development. But just like any good story, there has to be a strong beginning that really grabs you. That's why we're thrilled to announce two new free tools that can help you put your work in front of more readers.
D2D Author Pages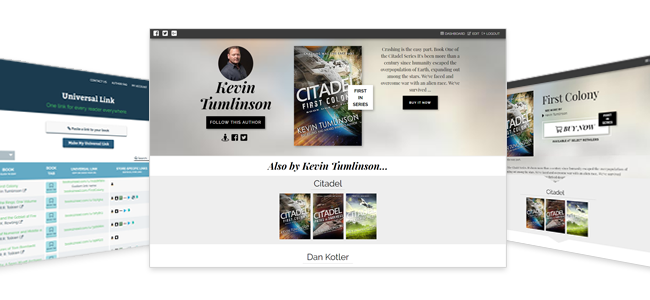 Having a central place to send readers, where they can learn more about you and find all of your work, is a critical part of any author marketing strategy. D2D Author Pages will give you a single platform, where readers can find out more about you, and find all of your books. We've crafted a beautifully designed layout that includes:
Your author bio
Your author photo
Links to your social media accounts
Customizable page elements to help promote your book to readers
A button that readers will be itching to click, to follow you for new release notifications or to join your mailing list, pointing to the list signup tool of your choice
Carousels of your books and series, so readers can easily find your work!
Unlike author pages you may be used to, your D2D Author Page is built completely with you and your readers in mind. Whether you are selling in one storefront or two or twelve, your readers will be able to find your books at the retailer of their choice, thanks to your D2D Author Page.
Quick Start Guide
Sign Up or Sign In—If you already have a Draft2Digital or Books2Read account you can log in at https://books2read.com/authentication/login. If you do not already have an account, you can sign up for one at books2read.com. It's free, and it gives you access to all of the tools we're going to discuss!
Universal Book Link (UBL)—Once you've logged in you'll find yourself on the Universal Links Dashboard. You may remember Universal Book Links from a previous post. UBLs are a single link that can take readers to everywhere your book is sold online. Once you've created UBLs for your books, you'll find them here.
D2D Author Page—In the Universal Links Dashboard you'll see five columns. The left-most column is labeled "Book," and here you'll find a list of book titles for which you've created a UBL. Below each title you'll see the author name. Click the author nameto open your D2D Author Page.
Enter Edit Mode—You're now looking at the current version of your D2D Author Page! From here, you can click the Enter Edit Modebutton in the green banner at the top of your screen, and start modifying, adding, and editing as you see fit. Any region of the page that has a green outline can be edited, and you can click SAVE CHANGESat any time to save your progress.
That's it! Those are the basics for getting started with your D2D Author Pages. Once you've saved changes and exited the Edit Mode, you can copy and paste the URL from the address bar of your page and share that with readers any way you prefer. Send it in an email to your mailing list, share it on social media, or include it on business cards, mailers, and flyers. Get creative!
Complete Video Walk-Thru
If you'd like a more in-depth look at the features of D2D Author Pages, here's a complete video walk-thru. You can bookmark this video on YouTube at http://bit.ly/D2D-AP-Onboard.
You'll also find a clickable Table of Contents in the video's description, to help you jump to the topics you're most interested in.
Watch the full video below:
D2D Book Tabs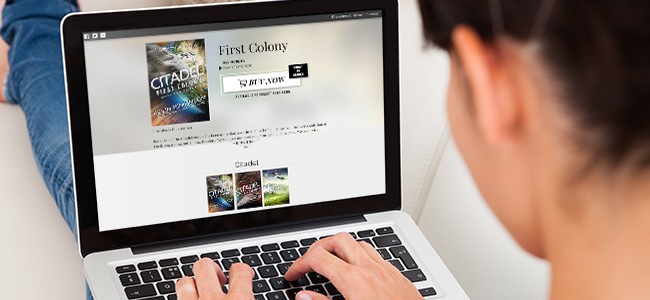 These are more than product pages. D2D Book Tabs are where your book lives and breathes online. They give your readers a beautiful and convenient place to find out everything they need to know to make the decision to buy and read your book.
Using our Universal Book Links (UBLs), Book Tabs are completely independent of any single eBook retailer. Readers can click the Buy Now button and find your book everywhere it's sold online. And they can choose a default store, so that the next time they click Buy Now on your book pages, they straight to where they prefer to get their eBooks.
Fewer clicks between your readers and your books means a better chance of making the sale!
Book Tabs include:
Your book and series titles
Your name as the author, with a link for readers to find more books by you
The cover image of your book
A customizable book description
Customizable page elements to help promote your book to readers
A Buy Now button that uses our UBLs
Thumbnails of other books in the same series
Your author photo and bio, along with links and buttons for readers to follow you on social media, and to either sign up for your mailing list or notified when you have new releases
Quick Start Guide
The moment you create a Universal Book Link, your D2D Book Tab pops into existence. So that's easy!
Open your Book Tab—From the Universal Links Dashboard, you'll see the second column is labeled Book Tab, and next to each book title you'll see a light blue Book Tab icon. Click this to open the Book Tab for that book.
Enter Edit Mode—Click on the Enter Edit Modebutton in the green banner to start editing the page.
Edit Regions—Any area of the page that is outlined in green is editable. Simply click that area and either make a selection or type the content you wish for readers to see. You can select promotional messaging for the Buy Nowbutton (On Sale Now, First In Series, Free, etc.). You can also edit the text for your book description.
Click SAVE CHANGES—Once you've made all the changes you wish to make, you can save the page to make it live.
Share Your Book Tabs—You can share your D2D Book Tabs with readers by clicking on the address bar at the top of the page and copying the URL. Use this to promote your books in emails, social media, and websites, or on printed materials such as business cards, flyers, and signage.
Those are the basics for using your D2D Book Tabs. If you'd like a more in-depth look you can watch the Complete Video Walk-Thru below or watch it on YouTube at http://bit.ly/D2D-BT-Onboard. Bookmark this video for future reference. And in the video description you'll find a clickable Table of Contents that can take you directly to the topic you want to learn about.
Complete Video Walk-Thru
Both your D2D Author Page and your D2D Book Tabs are designed with an easy and enticing user experience in mind. They're a perfect balance of form and function, encouraging readers to click through, to buy your books, and to come back for more. They're a sleek, attractive, and easy way to promote you and your work, and to increase your discoverability online.
We think they'll become the home base of your online platform—and we're just getting started. New features, new tools, and new resources will be added as we go and grow.
GET STARTED AT BOOKS2READ.COM!
Let the discovery begin