The success of Kobo's subscriber-based Kobo Plus just keeps opening new doors for authors and their books. What started in the Netherlands, Belgium, and Canada expanded quickly to include Australia, New Zealand, Italy, France, and Portugal.
Now, Kobo Plus is crisscrossing the pond to help you reach readers in the US and in the UK.
With subscription tiers that run at a budget-friendly $7.99 USD or £9,99 GBP per month, Kobo is giving readers access to a massive catalog of books and authors, in two of the biggest English-reading markets.
And now you can opt your books into those markets and increase your discoverability and your chance for more revenue!
If you have already agreed to be opted in as new territories open for Kobo Plus, congratulations! Your books are already on their way to these two new markets! If you have excluded the US and the UK from distribution, don't worry! Your books will not be sent to those territories, per your request.





Otherwise, a popup will greet you next time you log in, allowing you to opt-in all your Kobo Plus books to either

all

or

select

territories.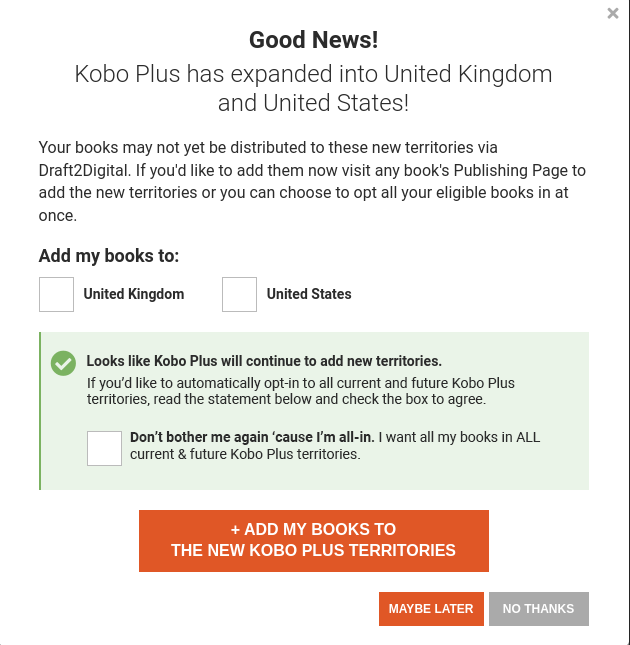 You can simply select which territories you would like to join from the publish page of any of your books.
READER FOCUS MEANS EVERYBODY WINS
The Kobo Plus Payout Model is based on the number of readers subscribing and reading books through the service. This is a little different than some other subscription models you may have experienced. The revenue-sharing model is based on the number of subscribers that Kobo Plus gets.
The more subscribers the service has, the more revenue there is to share.
And now, with so many new territories joining the pool of subscribers is bound to increase. More people to discover your books!
Here are some of the advantages of opting in to Kobo Plus through Draft2Digital:
No exclusivity—While you're enrolled in Kobo Plus, you can distribute your books to any other online bookseller that you wish! There's no exclusivity requirement to be in the program.
Royalties—Royalties are based on the current Kobo Plus Payout, which increases as subscriptions rise. Your royalty share is based on a formula that takes into account the Minutes Consumed—the combined number of minutes read by paying subscribers in a given month.
Reach an expanding market—Now that Kobo Plus is expanding into these territories you'll reach English-speaking readers in two of the biggest markets in the world. More opportunities to reach more readers and to earn more revenue! All with no extra effort on your part.
Draft2Digital and Kobo have always had a great relationship, and we're thrilled to offer our authors this chance to reach even further.
If you have any questions, please feel free to email our support team at support@draft2digital.com.
Happy Publishing,
The Draft2Digital Team