Draft2Digital celebrates its 10th anniversary in March 2022. And now, as of March 1, 2022, with Smashwords and its 14-year history of distribution and sales, we have access to unprecedented data and analytics in the Publishing Industry.
Because the fate of our company is based upon author success—we earn money when our authors books sell—we intend on continuing to leverage our resources and people to help authors grow their business.
And that's why we're so excited to begin sharing semi-regular publishing industry trends.
UPDATE: Catch a replay of our livestream on this topic!
This particular article was derived from sales reports from the top-selling titles aggregated across all the platforms Draft2Digital has delivered to (retail, library, and subscription).
Soon, we'll be able to incorporate sales analytics from the platforms Smashwords distributes to, including the Smashwords store. Keep in mind that the Smashwords store is the world's largest indie author bookstore. And soon it'll be even bigger, once Draft2Digital titles are added to it.
But with that introduction out of the way, let's get to the meat of this article, along with some ideas and predictions on the trends we've been tracking.
The digital divide between traditional publishing and indie publishing is going to continue to grow. Calling it a divide is being too subtle. I think we should start calling it a rift. Both sides still have absolutely no clue about what the other is doing. I'd argue that traditional publishing and self or indie publishing are, in reality, operating in two distinct businesses.
One of the best books I've read that even comes close to understanding the magnificence of eBooks to the Publishing industry is John B. Thompson's 2021 Book Wars: The Digital Revolution in Publishing. It, by far, has the best understanding of the indie publishing landscape, thanks to the author's interview with Smashwords founder Mark Coker and Data Guy, who we first saw via Hugh Howey's Author Earnings Reports, and who, in 2019, migrated over to servicing the big publishers via BookStat.
But even then Thompson's book's overall perspective was so heavily skewed toward traditional publishing that it seems to suggest that eBook growth has slowed down.
It's somewhat ironic, when I just looked at the listing for Book Wars on Amazon, that the price of the eBook is MORE EXPENSIVE than the paperback version.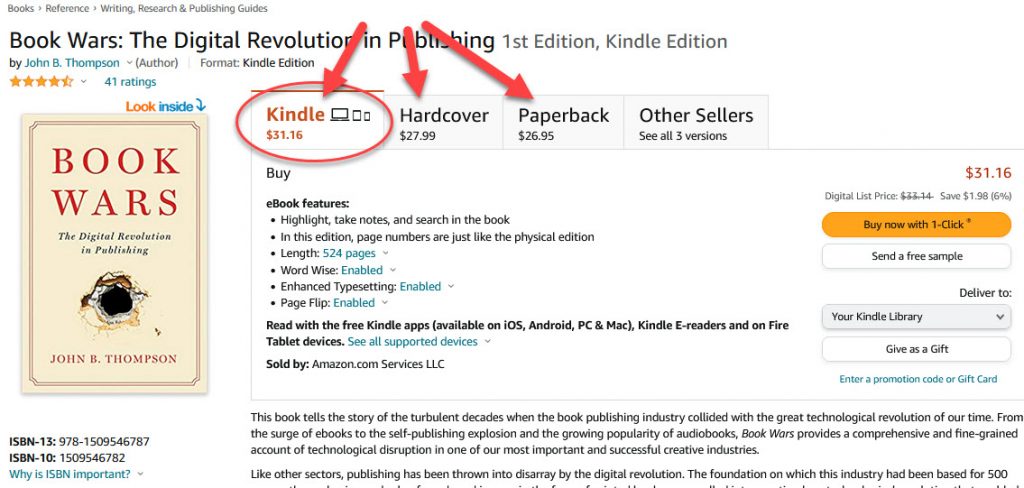 Sigh. Is it ANY wonder why traditional publishers think that eBook growth is slowing down? THEY are the ones slowing it down, by purposely forcing people to purchase print books, because it's the cheaper alternative.
Having a direct insight into the continued and ongoing growth of eBook sales in the Publishing Industry—particularly since March 2022, I can only shake my head and sigh. There are none so blind as those who will not see. And the largest publishers in traditional publishing continue to refuse to see, despite significant and blatant signs about the importance of digital formats:
the Covid-19 pandemic that started to sweep across the world in March 2020, which lead to the single largest boost of eBook sales since the 2009 to 2012 era
the unprecedented growth of digital audiobooks that continues to build and expand
the paper shortages and manufacturing and shipping supply chain issues that have been growing in the past year and a half
Major publishers still aren't paying attention to these Publishing Industry trends. Instead, they seemed to have doubled down on their investment in overprinting, storing, warehousing, and shipping dead trees around the world.
This is going to lead to lead to a greater number of the smaller independent publishers with dynamic flexibility who started as indie authors and have grown to become mini publishing empires in their own right to fill in more and more of the gaps in that landscape.
Publishers like:
Michael & Judith Anderle's LMBPN
James Hunter and Jeanette Strode's Shadow Alley Press
Dakota and Danielle Krout's Mountaindale Press
Mike Bray's Wolfpack Publishing
Kevin J. Anderson and Rebecca Moesta's WordFire Press
Kristine Kathryn Rusch and Dean Wesley Smith's WMG Publishing
. . . have created author-centric, digitally adept and dynamic publishing houses, helping to shepherd in a new more disruptive era of the publishing industry that I believe we are only starting to see the beginning of.
Unlike their traditional publishing predecessors, they have adapted an inclusive, collaborative, and forward-thinking mindset. They're not interested in competing with one another for the top-spot, but in servicing their readers, and boosting up their authors. They actually support and collaborate with one another, sharing, and recognizing that more can be achieved by working together than by trying to out-perform one another.
In addition to continued dominance in the digital eBook and audiobook space of the Publishing Industry, indie authors are going to take further advantage of print opportunities leveraging Print on Demand.
Whether it's the use of Amazon's KDP Print (which is free to use, but limited, essentially to Amazon distribution), or branching into wide platforms using Ingram Spark, or Draft2Digital Print (which is free with the exact same global reach as Ingram), indie authors are going to be leveraging even more of the online print book sales.
No, this won't change much of the "in store stock" of physical bookstores, which is still dominated by traditional publishers, but indie growth in this realm will continue to impact the shape of online bookselling.
One thing indie authors (whose bread and butter has long been a mostly eBook diet) continue to fail to recognize is that most people who read books are STILL reading print. That segment of readers, which results in billions of dollars of sales (and which is why indie authors think that traditional publishers are out to lunch) has still not migrated to digital reading. This means two important things. First, that there's still plenty of room for eBook and digital book growth. And two, that, when things begin to normalize in another ten years or so, eBooks and print are likely to settle somewhere near a 50/50 split, instead of the current 20% eBook to 80% print ratio most markets are in. (These stats are extremely difficult to see because of the way that reporting within tradition publishing versus indie publishing continue. It is further clouded by studies, such as one released by Kobo many years back, showing that people who read eBooks tend to buy twice as many print books as they did before they started reading digitally).
Despite D2D Print still being in beta release and with less than 2,000 authors in the beta program as of early December 2021, Draft2Digital stats have shown unprecedented growth in print book sales. And this is with a very small % of titles. By the end of 2022, with thousands more authors being moved into the D2D Print program, that growth is going to explode.
Unlike Ingram Spark, D2D Print makes it simple and easy with:
A far superior dashboard experience and world-class customer service where you can still speak to someone on the phone
Free set up and free quarterly print file changes—you don't need to negotiate a complex gymnastic routine to find a coupon code to waive the set-up and change fees
An automated process for interior PDF file formatting—with free MS Word to PDF print interior templates
An automated cover wrap generator, getting a free POD print book within minutes. There's no need to worry about the expense of paying for a professional full cover wrap print cover design
Interestingly, D2D has seen a significant number of non-fiction titles do well within print, which much higher than what has long been typical for eBooks.
Because, for the past two years, the split between the % of sales of the top titles at Draft2Digital has been pretty close to 96% FICTION and 4% NON-FICTION.
Based on some of the trends we're already seeing, and one that we'll look at below, I predict that, with the advent of an easy path to wide distribution of print books, in addition to some of the forthcoming distribution channels that are in the pipeline, that gap is going to begin to narrow.
Within fiction, while Romance is at the very top of the charts, with a large margin, here is the order of the sales of the top-selling books on DraftDigital from 2020 and 2021.
Romance
Women's Fiction
Mystery & Detective
Fantasy
Action & Adventure
Crime
Thrillers
Science Fiction
Family Life
Erotica
Coming of Age
Humorous
Sports
Christian
Sagas
Historical
LGBT
Horror
Holidays
War & Military
Anthologies (multiple authors)
Speaking of eBooks sales, for 2020 and 2021, the top trending genres in terms of volume of sales via Draft2Digital are:
Romance (Adult & YA)
Mystery & Thriller (Adult & YA)
Sci-Fi & Fantasy (Adult & YA)
Memoirs/Biographies
While the top three genres of the indie publishing industry haven't changed all that much from previous years, it's important to note that memoirs and biographies have now migrated closer to the top of those lists. This further supports the growth in sales of NON-FICTION that's being predicted.
This means even more earning opportunity for authors outside of the genres that have long been at the forefront of the indie author movement. That diversity will further strengthen indie author position in the greater publishing sphere.
And, within Romance itself—which remains the largest earning overall category—Contemporary Romance is, by far, the top-selling of the sub-genres, counting for almost half of the overall romance sales. But here's how the overall high-level sub-genres rank within Romance sales from the past two years.
Contemporary
New Adult
Suspense
Historical
Paranormal
General
Science Fiction
Military
Romantic Comedy
Erotica
Western
LGBT
Collections & Anthologies
Billionaires
Sports
Fantasy
Clean & Wholesome
Holiday
Multicultural & Interracial
Time Travel
Another trend, as also evidenced through tracking D2D sales stats, is continued international growth. At D2D in 2018 the US accounted for 62.62% of all D2D platform sales. International sales have grown by over 10% in just a four-year period. In 2021, the US sales are at 55.61%. That international growth has been coming from Canada, Australia, the UK, Germany, the Netherlands, France, Belgium, Switzerland, New Zealand, and Italy.
This will continue the trend as authors realize that while Amazon may be dominant in the US, there are more markets to reach in other countries via both retail and library platforms.
In 2021, for example, Draft2Digital strengthened its sales through a few of the lesser known to US-author platforms of Tolino (Germany) and Vivlio (France). They also launched a new library wholesaler partner via BorrowBox which is completely unknown in North America (where OverDrive is the major player), but is a powerfully dominant platform in Australia, New Zealand, the UK and Ireland.
In addition to continued library growth, subscription platforms are going to continue to grow.
Scribd has seen continued growth via Draft2Digital in the past year. And we have seen, particularly with the advance of Rakuten Kobo's Kobo Plus platform (which comes without the exclusivity requirements of KDP Select and Kindle Unlimited) that this is a continuing growing trend.
The biggest growth Draft2Digital has seen via Kobo in the past year has been through Kobo Plus subscription revenues. In the past two years Kobo expanded this option into far more territories, with the service now offered in Canada, the Netherlands, Belgium, Australia, New Zealand, Italy, France, and Portugal.
It's plain to see that consumers are used to "all you can consume" monthly free models in virtually every other digital asset they consume, so it will continue to grow for the book community. And this is another opportunity that indie authors can either embrace and ride the waves of, or, like traditional publishers, ignore, and be swept aside with.
Other non-retail/non-library subscription and serialization platforms will also continue to grow. We know that Amazon launched their own flavor of this through Kindle Vella. That was in an obvious ploy to take back some of the market they've been losing to numerous serialization platforms that include Wattpad, Radish, Dreame, and so many others.
In addition to more subscription models, direct sales are going to continue to grow. As tools and platform availability make it easier, such as plug-ins for WordPress or other sites, and as savvy authors continue to build upon their author newsletter strategies, they can drive more people to get their books direct. Bookfunnel, of course, makes it so easy to deliver after a direct sale, to whatever reader or platform the consumer prefers to read on, including their own eBook/audiobook app.
D2D recently updated Books2Read allowing authors who use that free universal book link tool to control which platforms appear first on the list. They can, for example, set their direct-sales PayHip link first. And we will continue to add even more direct sales link opportunities in Books2Read in 2022 to help enable indie authors who want to leverage direct sales opportunities.
Finally, as I have been publicly decrying since 2014, I believe that the future of publishing is going to continue to become more collaborative.
This trend of working together, of supporting one another, has long been a staple of distinction within the indie author space. Whether it's authors offering each other 1:1 help, public forums, groups, and social media props, there is a stream of generosity, support, encouragement, and pride authors feel when they are able to help out or work in conjunction with others.
Draft2Digital is seeing evidence of even more authors working together, and coming up with far more interesting collaborative projects, taking full advantage of our payment splitting option. We launched this in 2020, and it is available for both eBooks and Print Books. And it is also seeing consistent growth.
And, as more authors begin to realize the freedom that comes when they take a collaborative and inclusive approach to publishing, the publishing industry as a whole will continue to morph and change and prosper, with more wealth, and more opportunities for authors than ever before in the history of writing and publishing.
Because, as stated above, our success is tied directly to your success as an indie author.
We look forward to helping you be part of these growing trends. Check out our Publishing Industry Insights from July 2022!