We're betting that's a headline you never expected to see, and we're already anticipating the chatter this will cause in the indie author community, particularly for Draft2Digital and Smashwords authors!
We know this is going to feel a bit unexpected and out of the blue, but we're very excited to make this announcement, and even more excited about what this means for you and the rest of the author community.
Since Draft2Digital was founded, in 2012, we have always believed that Smashwords was a vital and integral part of the self-publishing community. In many ways, Smashwords ultimately built the very industry in which we all work and thrive. Their work laid the foundation, and we've all been building on that foundation ever since.
And though Draft2Digital and Smashwords have always been cast as rivals in this little drama, the truth is it was, at worst, a friendly rivalry. In the end, we share the same goal: Empower self-published, indie authors and publishers to build and grow their publishing careers.
At the core of each company there has always been a love and appreciation of the author community. Many of us are authors ourselves, and each company was founded to provide the sort of services and support that we need. We understood your needs because we share them.
So, what does this mean for our authors?
In terms of the service and resources you've come to expect from both companies, nothing really changes. At least, not right away. We will continue to offer the best author support there is, to all our combined authors, worldwide. And over time, authors and publishers will gain all of the advantages from both platforms, with a unified author dashboard and user experience.
The good news is that with our combined powers, all of us at Draft2Digital and Smashwords see myriad opportunities to build even more and even better tools and services, to help you build and grow your author career in ways you might never have imagined.
Among other things, the acquisition means:
Draft2Digital now serves 250,000+ authors
We now distribute 880,000+ ebooks and 11,000+ print books
D2D authors will also gain access to exclusive book marketing tools from Smashwords, including Smashwords Coupons, the patent pending Smashwords Presales tool, Author Interviews, and self-serve merchandising in the Smashwords Store
D2D authors and publishers can expect to gain access to:
The Smashwords Store
Smashwords Coupons
Smashwords Presales
Self-serve merchandising
Author Interviews
D2D erotica authors will also gain access to the Smashwords erotica certification system
Smashwords authors and publishers can expect to gain access to:
Simpler publishing tools; tools for automated end-matter
Books2Read Universal Book Links (UBLs), Author Pages, Book Tabs, and Reading Lists
D2D Print for POD paperbacks (Visit https://draft2digital.com/printbeta/ to be included in the beta)
D2D Payment Splitting for co-authors and collaborations
New payment options, including direct bank deposits
With the integration of the Smashwords storefront—combined with our Books2Read Universal Book Links (UBLs), Author Pages, Book Tabs, and Reading Lists, as well as D2D Promotions—the opportunities to help our authors market and promote their books, and to find more new readers worldwide, just went off the scale.
And of course, we're still dedicated to our core services—providing the easiest and best way for authors to automatically format and distribute their work to an ever-growing catalog of retailers and libraries.
Get more details about changes, additions, and plans regarding the acquisition when you read our FAQ.
Will Draft2Digital allow erotica authors to continue distributing through Smashwords?
Yes! Authors may continue to distribute erotica under the Smashwords erotica policies, as long as the book complies with the Smashwords terms of service. Draft2Digital will also work to make the Smashwords Store a more effective sales channel for erotica authors and their readers. Our goal is to improve discoverability for your books, to help more readers find you!
Draft2Digital & Smashwords Current Distribution Partners
As we grow, we're adding more ways for you to reach readers worldwide. Below you'll find a chart listing some of the sales partners we reach, as well as those you'll gain in time, after the acquisition is complete.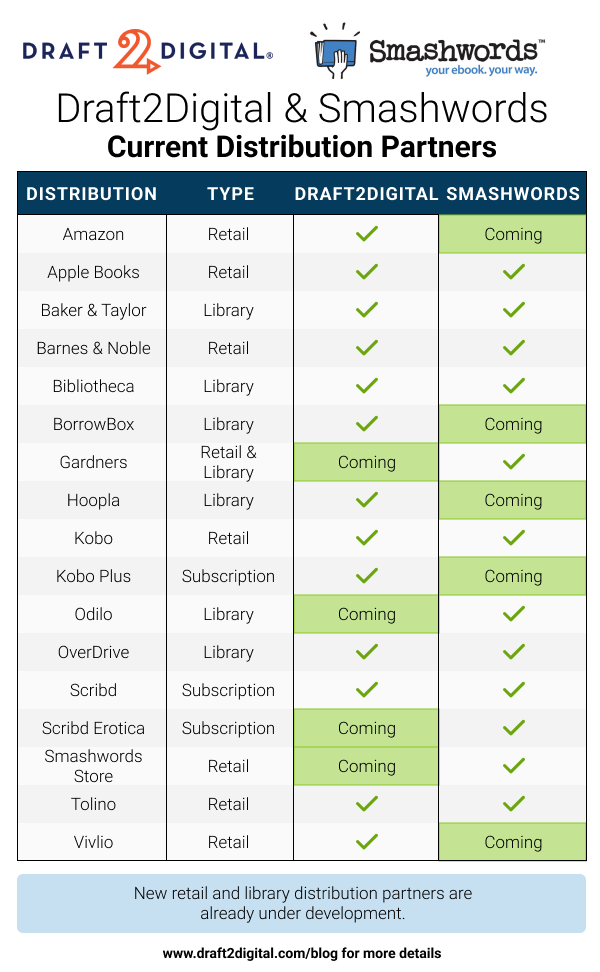 It's only FORWARD & UP from here!
Going forward, we'll be working to not only integrate the technologies of both businesses, but to leverage the strengths of each while improving upon everything we do. Each company has learned its own unique set of lessons and overcome its own unique challenges. Together, we can bring the benefit of all that industry experience right to you.
Because, ultimately, this is all about you—all about the self-publishing community and its authors, and all about build the tools and resources you need for success.
Thank you for being a part of our journey. We can't wait to help you reach new heights!
The Draft2Digital (and Smashwords!) Team
READ THE FULL, OFFICIAL PRESS RELEASE HERE
Draft2Digital is Now Hiring
New growth means new opportunities!
Know any great software developers or customer support professionals who want to join our growing company? Visit https://draft2digital.com/careers to learn more.