If you've logged into Draft2Digital recently, you may have noticed that a few things have changed! Don't worry, all the tools and features you've come to love are still there (though some may have moved), and even more features and resources have been added. We've just given the site a new look!
And we're not done yet … bigger and cooler things are coming!
New Look, New Features!
First up, as soon as you log in to your D2D Author account and visit the My Books page, you'll notice some nifty new icons on the right-hand side. These let you get instant access to the publication status of your ebooks and audiobooks. Click the ebook icon to see everywhere your book is published, everywhere it's still publishing, and everywhere it has been delisted!
Once you've clicked that icon (or any icon), you'll also notice a whole new interface—colorful tabs that let you quickly switch between different versions of your book, so you can check status, initiate an audiobook, or even access the new Promotion tab!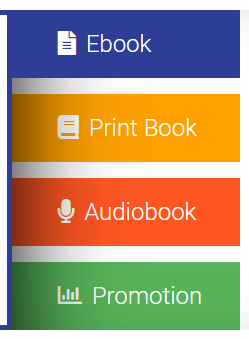 On this tab, you'll be able to edit the Universal Book Link (UBL) of your ebook, and visit its Book Tab—a landing page for your book that can help you promote it to readers!
Here on the Promotion tab, you'll also find your Promotion Details, including the sales chart showing the Last Two Weeks' Sales. You can also find this chart and more on the My Reports page.
These Changes are Just the Prologue!
There's so much happening behind the scenes at D2D—exciting changes, new features, and feature improvements that we know you're going to be thrilled about! So if you haven't lately, go log in to D2D and explore. Stay tuned for even bigger announcements in the future!