The Smashwords Store is your store—a marketplace for Ebooks that allows you to not only get the highest royalty from any retailer, but to also control the entire process of promoting your Ebooks to readers. And that experience is only getting better with time, as we work hard to give you even more levers to pull.
Now, we give you the power of Smashwords Coupons.
Set your terms—When you create your Smashwords Store Coupon, you control everything from the expiration date to the discount, to whether you want your coupon to be private or public.
Want to limit how many times a coupon can be used for a book? You can set redemption options from 1 to 1,000, or even Unlimited if you want to give everyone a shot at discovering your work.
And if you do want to give everyone a shot at discovering your work, Public coupons can cause your Ebooks to get featured automatically within "Special Deals" shelves for added visibility.
You get to choose—You control which Ebooks are part of your promotion. Whether you want to put a single book on sale or an entire series, it's up to you. And you can select any Ebooks from your catalog. Create a starter pack for all your first in series books, offer a "collection price" for all your stand-alones, novellas, or short stories—you choose.
Keep it short and sweet or go long—You control the expiration date for your coupons, so you can run a sale through the end of the month or the end of the year. Run it for a week or set a flash sale for the day.
If you find you need to shut off a coupon at any time, you can do so from the Smashwords Store Coupon Manger. Just find your coupon and click the little red X in the Retire Column. Done and done.
Everything is up to you, and you control it all right from the Draft2Digital dashboard.
GETTING STARTED IS EASY
When you log in at Draft2Digital.com, just click Account, then Multi-Book Actions.
From there, click Smashwords Store Coupon Manager and start creating. (or you can just click that link and bookmark it so you can get there faster next time!)
You can also find it by clicking the Promotions tab in the View Book dashboard for any book that's live at the Smashwords store: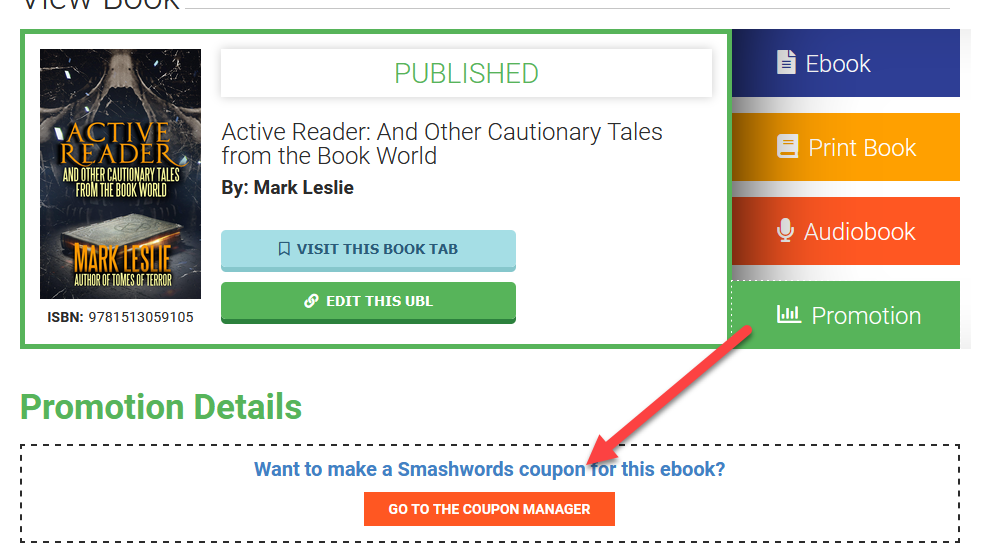 Smashwords Coupons is just one more way that Draft2Digital is empowering authors to control their destiny and make their author dreams a reality. We're not done yet. Keep watching this space for more.
The Draft2Digital Team