Welcome back! We're here with the second post in our series on D2D Print. In this article, we'll focus on a topic that's near and dear to all our hearts: author copies.
(If you're not in D2D Print yet, sign up for the Print Beta here! We are opting in new sign-ups every week.)
D2D Print author copy basics
We've put a lot of time and effort into making sure authors can order copies of their books at their base unit cost. Use them any way you like; give them away as Advanced Reader Copies (incidentally, this is a fantastic marketing strategy), resell them, gift them, "auction" them off to your mailing list as prizes, etc.
In most cases, your print book should be available to order author copies within 5-8 business days of uploading the file. Why the wait? Our team will manually validate that all the fields have been completed correctly, and then our print partner runs their own pre-media checks and metadata validations. Once those steps are complete, the book is ready for print and distributors will be notified of its availability.
When can readers purchase print books?
Once validations are complete, the timeline is firmly in the hands of distributors like Amazon, Barnes & Noble, etc.
Note that each distributor has its own timeline for creating your print listing, so availability will vary by channel. All in all, it could take anywhere from 1-4 weeks for your book to appear on most storefronts.
Purchasing an author copy
To purchase author copies, check your Print Details page to confirm availability. Once the Order Now button is clickable, just follow the prompts to order your copies.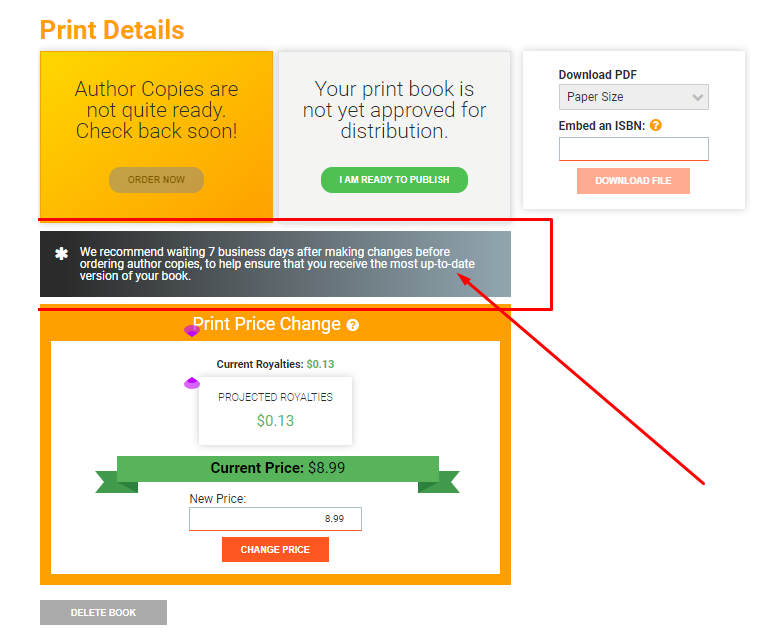 You'll get two confirmation emails from D2D: one when the order is placed, and another when the order is shipped.
Order placement confirmation: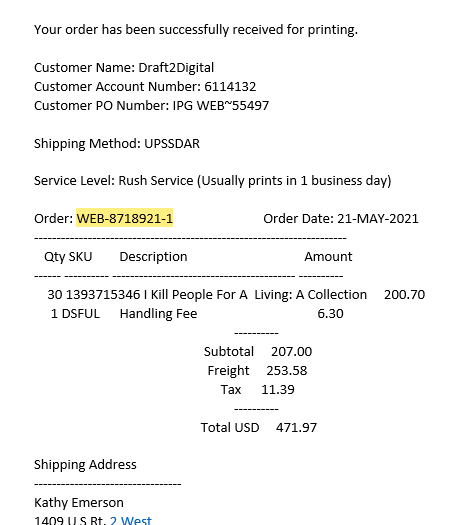 Shipping confirmation: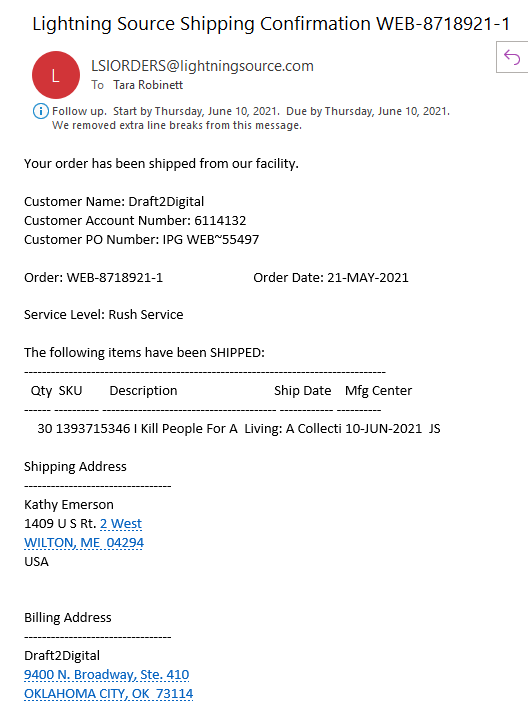 Author copy shipment by region
One of the reasons D2D Print is still in beta, despite its full functionality, is that we currently only support author copies shipped to the US and Canada.
We're actively working with our printing partners to expand this offering in more countries, but we aren't there yet. Keep checking back for updates!
---
If you haven't read our first Masterclass on D2D Print, be sure to check it out! In the next post, we'll be tackling changes—how to make them, how to long to wait to order, and more. Stay tuned!